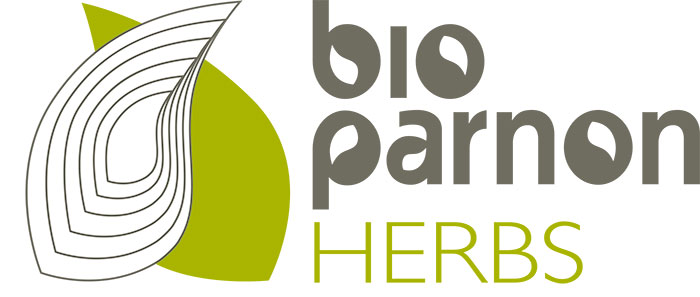 Bioparnon Company was established in 2013 after a decade of research and experience in small acres of fields, in order to obtain knowledge and familiarity with its products and nature. As a result, we have become specialists and highly skilled in the field of the growth and trading of organic herbs which provide the human body with healing and vital benefits.
A few words about our products:
Oregano: it is used in many recipes giving a strong taste and a distinctive scent. Also, its high content in carvacrol and low content in thymol protect our immune system from many diseases.
Thyme-Lemonthyme: it is an extremely useful plant and one of the best antiseptic and tonic herbs.
Mountain tea- Sideritis : it is unique in its kind. It is able to contribute proactively to osteoporosis given that; it fights against the loss of bone density and enhances the mechanical strength of bones. Ideal for coughs. Also with Rose Damascena.
Rosemary: the leaves are used as a flavoring in foods. It releases from a headache, tiredness and exhaustion.
Bay Leaves: they are used in a good many recipes, given a special flavor.
Dill: it is diuretic and tonic.
Savory: Due to its strong, pungent culinary scent it makes a great combination with salads, sauces, etc. it helps digestion and improves the pain from colic, nervous indigestion.
Basil: It is used mainly as a spice in cooking in many dishes because of its intense aroma and distinct flavor. The flowers are often used to add color to salads or added to dishes as a garnish. Basil enhances memory and makes people more efficient.
Marjoram: Not only are its leaves used as a spice, usually in meat and fish but also they facilitate digestive. Its essence has an antiseptic and anti-spasmodic use, while simultaneously it is used in perfumery.
Mix barbecue: The mix barbecue is a natural mixture of high-quality herbs and is consisted of oregano, thyme and rosemary. It is a unique combination of flavors and aromas in ideal proportions, making it suitable for a good many recipes.

BIOPARNON HERBS
GAITANIS PAN. & CO GP

Astros Arkadias
Greece, 22001
Tel: +30 27550-22690
Web: www.bioparnon.gr
Ε-mail: bioparnon@gmail.com